What's the best way to celebrate the holidays? The usual answers would be along the lines of spending time with family and friends at home or somewhere new. A good winter book doesn't hurt either. The last thing that comes to mind would be a blind date! An unconventional way of marking the Christmas season that may be full of chaos or love, or a mix of both. That mix is what 10 Blind Dates has to offer its reader.
*Disclosure: We only recommend books that we love and would read ourselves. This post contains affiliate links, as we are part of the Amazon Services LCC Associate Program and others, which may earn us a small commission, at no additional cost to you.
Article Continues Below Advertisement
Article Continues Below Advertisement
10 Blind Dates: Love During the Holidays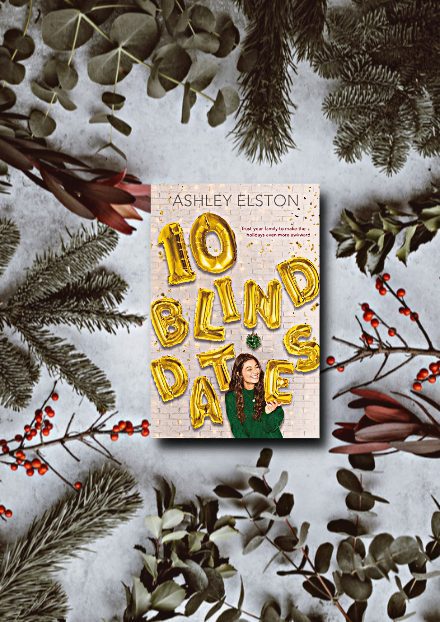 Sophie is looking for some quality time with her long-term boyfriend, Griffin, away from her overprotective parents. She finds the perfect opportunity when they decide to visit her pregnant older sister in Southern Louisiana. Little does she know, Griffin wants his own time alone-but it doesn't include Sophie.
She flees to her grandparents' house where her extended family has gathered for the holiday. Upong learning that her granddaughter's heart has been broken, Sophie's Nonna proposes a plan to get her mind off her troubles: blind dating to cheer her up.
Over the next ten days, Sophie meets various suitors, leaving her with confused feelings toward Griffin, and herself. And that's only the tip of the iceberg for Sophie and her love life.
Article Continues Below Advertisement
Article Continues Below Advertisement
The Chaos: Blind Date Chart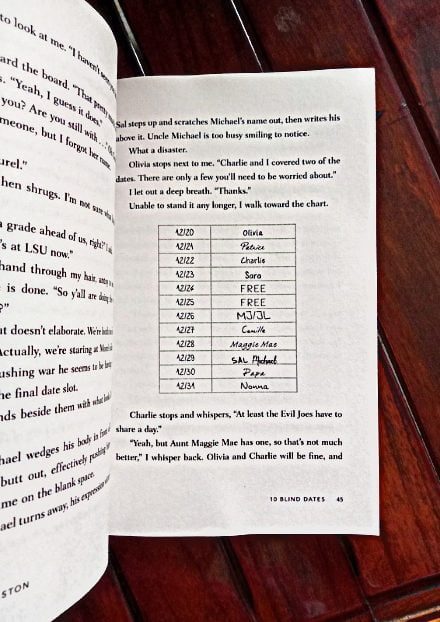 It's chaos, but the absolute best kind.
Right after Nonna's announcement regarding the blind dates, Sophie's aunts, uncles, and cousins take turns exchanging ideas in front of her. They bring her around to the idea-she's looking for any way to cheer herself up. Her family then puts up a chart with a schedule to follow. Each day from December 20th to 31st, she will be set up with someone in her age range.
With two days free pass and a free pass card on any date, I originally thought that Sophie had at least 50% control over these dates, but I was wrong. The 10 blind dates are posted on a wall with few details; this surely makes the atmosphere more exciting for our protagonist as well as the reader.
As outrageous as it may sound, the size of Sophie's extended family is no joke! Relatives fill up the house and can barely fit in the living room. It was sometimes quite difficult to remember the characters' names and their relation to the central family and plot. As a result, unfortunately there were several side conflicts that the book created which should have been addressed, but didn't.
The Love: Dating Galore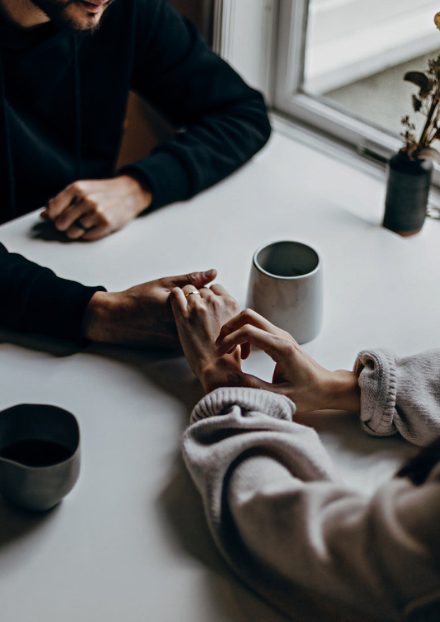 All the dates were surprisingly different from one another. There were moments I couldn't catch up to the weirdness and overall concept. Nevertheless, I had fun and I long for more dates (except for the really obnoxious ones).
Article Continues Below Advertisement
Just have fun with this and things may surprise you.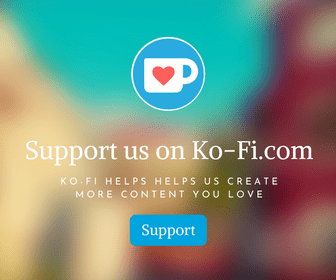 The writing style was perfect for this time of year! There's warmth created in a story when so many people are rooting and cheering you on.
A week and a half is long enough for everything in your life to change. 10 Blind Dates has a brilliant plot device that wrapped around the overall narrative. That being said, I do wish Sophie's personality was shown more in the series of dates.
Even though I hated the attention from the Blind Date board when it first happened, I can't deny that it's brought me closer to my family in a weird sort of way.
After reading 10 Blind Dates, I wanted to know more about what came next for Sophie and her family, and what are their lives are like outside the comfort of the holiday season. Luckily, another book in the same universe was released as a spin-off, entitled 10 Truths and a Dare which focuses on Olivia, one of the cousins.
Article Continues Below Advertisement
Article Continues Below Advertisement
Final Thoughts
Amidst the chaos, there was definitely love there. I adore the aspects 10 Blind Dates explored – friendship, love, and especially family ties. This matchmaking worked well for me and I became invested in each date and the possibility of where it might lead. This was a holiday rom-com with plenty of surprises, and made me feel warm and fuzzy during this most festive time of the year.
---
The Review
10 Blind Dates
10 Blind Dates is a heartwarming winter romance. It's a light and fluffy read that will take you in for an adventure in an unconventional way.
PROS
Family relations
Cool plot
Unique 10 Blind Dates
Page-turner
Straightforward writing style
CONS
Untold background stories
Ending
Review Breakdown
Holiday spirit

0

Characters

0

Timeline

0

Romance

0
Article Continues Below Advertisement
Article Continues Below Advertisement