Any last minute winter read in mind? It was my first time to picking up such a large graphic novel, 592 pages to be exact, specifically at this time of year. Despite its length, I was able to finish Blankets in a short period of time, and will be adding it to my list of great winter reads.
*Disclosure: We only recommend books that we love and would read ourselves. This post contains affiliate links, as we are part of the Amazon Services LCC Associate Program and others, which may earn us a small commission, at no additional cost to you.
Article Continues Below Advertisement
Article Continues Below Advertisement
Blankets: Synopsis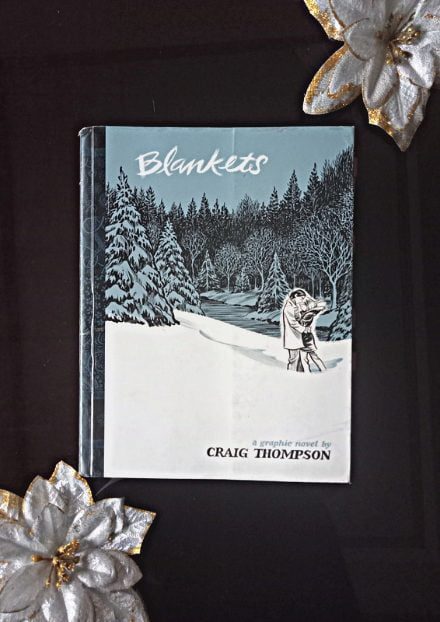 Recounted along lovely black and white illustrations and a lyrical narrative, Blankets is a coming-of-age autobiography of Craig Thompson's life journey, centering on his first love, sexuality, dreams, and his faith. Thompson grew up in a Christian family with his equally mischievous little brother. As a child, he experienced being bullied by his classmates and was subsequently sexually abused by his babysitter. He shoved his feelings aside and continued to function as a perfect Christian who, never allowing himself to explore his own lustful feelings, living a sheltered and unhappy existence.
As a child, I thought that life was the most horrible world anyone could ever live in, and that there had to be something better.
Craig generally felt excluded, until he met Raina at a winter church camp. He found a home in her, and her feelings towards him were the same. One year, he decided to visit her over a school break, and Blankets also tells the reader the story of his stay at Raina's the the experiences that they shared as young people.
Blankets: Story Review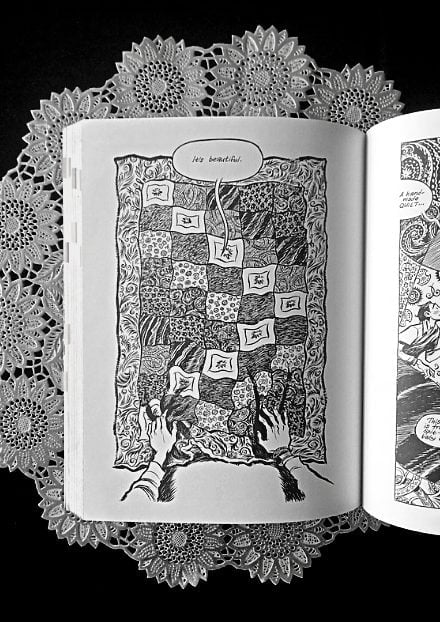 The entirety of Blankets spans Craig's very religious upbringing; he was a child who grew up pursuing the dream of going to heaven. With this in mind, he was hopeful to be someday rewarded for enduring his tough days without complaint. Understandably, he found it difficult to feel blessed all of the time, particularly when he was constantly excluded from the group in school and church camp.
Article Continues Below Advertisement
Article Continues Below Advertisement
But in that little pathetic clump of blankets, there was comfort.
Thoughts of running away certainly crossed his mind, but in the end he made the decision to return to his home, because whenever you go life will eventually catch up with you. Craig only feels truly worthwhile when he's with his little brother Phil, who looks up to him even though he's just three years younger.
The initial storyline of Blankets focuses on the story of Craig's and his brother's sibling rivalry but that portion of the graphic novel wound up on the back burner in favor of Thompson's other experiences. It served as a great start and also showcased an intriguing bond between the siblings. However, this portion of the story was a little bit abrupt, and I would have loved to have learned more about their brotherhood.
You know… people that live outside the Midwest say we must be crazy to live in the snow and cold, but I think we gain a lot by enduring these winters.
Raina herself is almost like a girl who Craig dreamed up, never thinking that he would actually meet her. Readers get to know Raina as somewhat the breadwinner of a family-taking care of her two adopted siblings who both have Down Syndrome. She also has an elder sister named Julie, and a new niece that she's constantly looking after. All of this adds up to a responsible and determined girl who carries the weight of the world on her shoulders.
Article Continues Below Advertisement
I was drawn to their growing friendship and relationship through the illustrations. Their most intimate and vulnerable states are on full display during their short strolls in their little winter escapades and the beautiful imagery on the pages.
Blankets: Illustrations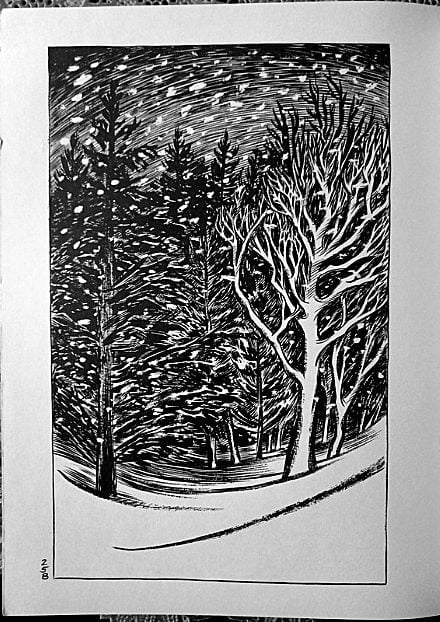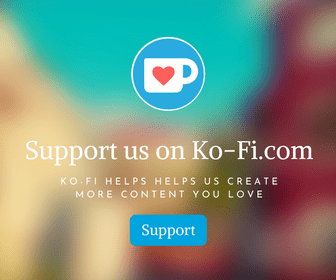 Blankets wouldn't be a masterpiece without its beautiful illustrations that aid in telling the story. I love how the graphics provide some warm winter atmosphere to the novel. They really elevated the story and made me feel as though I were feeling the snowflakes along with them.
How satisfying it is to leave a mark on a blank surface. To make a map of my movement – no matter how temporary.
I was mesmerized by how simple yet captivating the drawings were; I couldn't put it down. There were moments I stopped reading simply because I found myself staring at a certain page, admiring its beauty.
Article Continues Below Advertisement
Article Continues Below Advertisement
Final Thoughts
Blankets is worthy of its awards. I admit that there were some issues in the beginning that were not addressed and could have helped give the full story more depth and an additional level of continuity. Regardless, I'm glad I had a great winter escape in Blankets, without needing to leave the comfort of my bed.
---
The Review
Blankets
Blankets can be interpreted in a lot of ways. The way it was presented and incorporated in the story amazes me. If you're looking for a last minute winter read, pick up this graphic novel.
PROS
Whimsical illustrations
Character development
Themes
CONS
Some issues were not addressed
Insufficient storyline
Review Breakdown
Winter vibes

0

Characters

0

Plot

0

Internal monologues

0

Transitions

0
Article Continues Below Advertisement
Article Continues Below Advertisement