The Inheritance of Orquídea Divina DEALS
The start of fall 2021 is full of mysteries for our mystery month. This ever popular genre is often integrated into any type of fiction including fantasy and magical realism. Zoraida Cordova combines these extraordinary themes with her newest fantasy adult novel, The Inheritance of Orquídea Divina, featuring a wealth of diverse characters. The book comes out this week, September 7, 2021.
*Disclosure: We only recommend books that we love and would read ourselves. This post contains affiliate links, as we are part of the Amazon Services LCC Associate Program and others, which may earn us a small commission, at no additional cost to you.
Article Continues Below Advertisement
Article Continues Below Advertisement
The Inheritance of Orquídea Divina Summary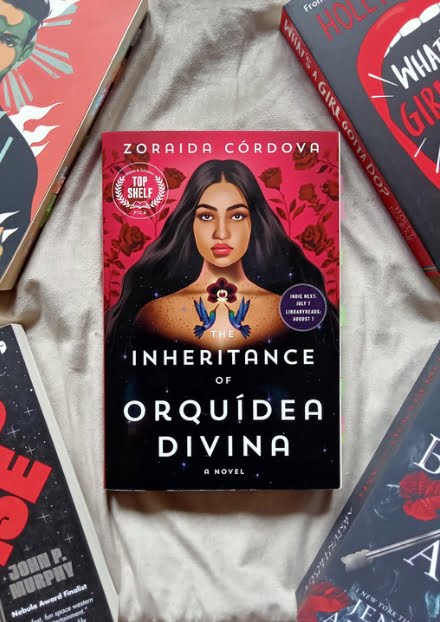 From the mysterious appearance of their home in the town of Four Rivers to the mysterious transformation of Orquídea Divina into a tree, secrets and curses aew about to be revealed by the Montoyas. When their matriarch invites them to her funeral and to collect their inheritance, they hope to find answers but they're left with even more questions than before. Seven years later, the gifts they receive are manifested in different ways as magical powers and a mysterious figure begins disturbing their homes.
The Invitation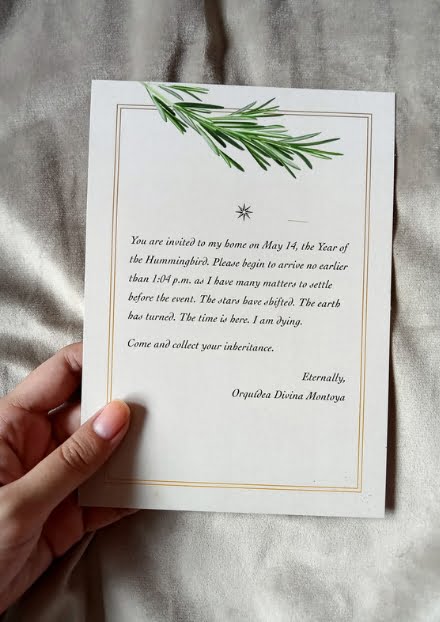 Here is an invitation for Orquídea's relatives to collect their inheritance after her death. The intricate detail of this letter includes clues that lead to her house I wouldn't have guested. The overall layout of this ominous start sets the tone for the magical and intriguing atmosphere of the story.
Orquídea was so many things: evasive, silent, mean, secretive, loving, and a liar.
This enchanting narrative continues with the family not knowing that while they were invited into the funeral, they were also summoned into the life of their matriarch once again.
Article Continues Below Advertisement
Article Continues Below Advertisement
The start of the story was phenomenal and alluring, but it began to slow down a bit in the first half of the novel. Much of the focus was given to Orquídea's prior life when she ran away from home. That said, I'm glad I pushed through because the second half was well worth the wait with the characters even went to Ecuador to learn more about Orquídea.
The Family Tree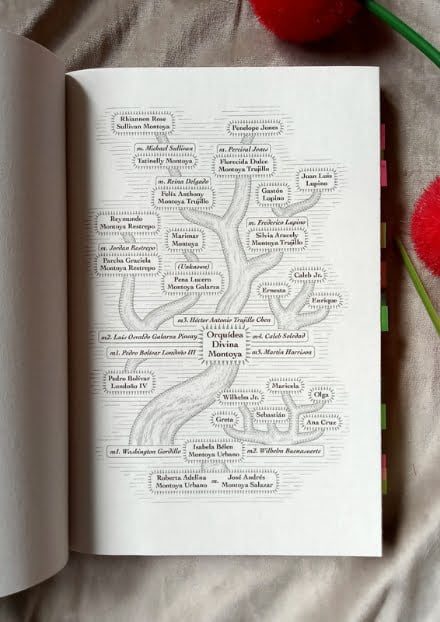 Orquidea's relationship with her kin can be observed by seeing how each of them react when they receive the invitation. With the present tension, we immediately know that there's some unfinished business among all her relatives, which gravely impacted the story.
What broke your heart so completely that its splinters found their way through generations?
From my perspective, Orquidea was misunderstood because she neglected to explain and telling her side of the story. This was a common conflict within families and it was incredibly well portrayed in the book.
Looking at the family tree, Orquidea's life blossomed with five husbands, and numerous children and grandchildren. The story focuses on Marimar, Rey, and Tatinelly, the three Montoya grandchildren, as they unravel the secrets of their family's magic.
Article Continues Below Advertisement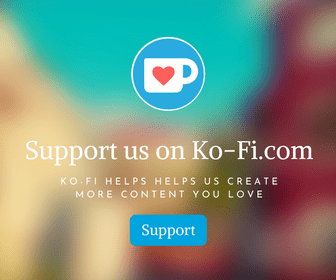 Marimar was originally the head of the pack, and decided to stay behind to take care of the home and the tree. Meanwhile, Rey continued to be an accountant rather than pursuing his dream of being an artist. Tatinelly was peacefully living with her husband and child, Rhiannon.
It was heartwarming to see these characters grow, discover, and learn their family's heritage despite their anger towards one another. Each character found relatable moments in bits of their grandmother's stories.
The Inheritance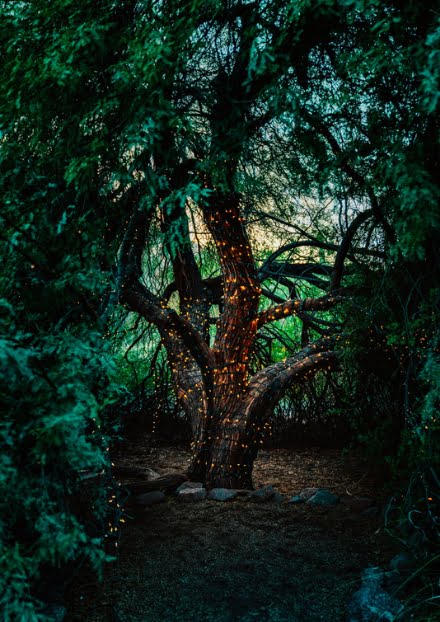 The central point of the novel was about the inheritance of Orquidea Divina-as the title suggested-but it deliberately goes beyond that. It comes down to the author's atmospheric narration and effortless poetic writing. Reading this book was a breath of fresh air-nothing felt forced.
Article Continues Below Advertisement
Article Continues Below Advertisement
That's the whole point of being a kid. You believe things before the world proves you wrong.
Stories within the story were vividly told and succeeded in bringing the story to life. The Montoyas never felt fictional to me. That's how good the writing was. Cordova made them three-dimensional, with strengths and weaknesses as well.
I'm sure that readers will have different takeaways from this book. The themes explored are timeless. Family, above all, is important. Discovering your past can help one understand what will be in the present and future.
Final Thoughts
A multitude of flashbacks, family secrets, and magical elements bring The Inheritance of Orquídea Divina to life. As someone who grew up with grandparents, I felt connected to the story for a lot of reasons. It was both more enchanted and real at the same time. This book reminded me how much I really love magical realism, and I hope that it does the same for you.
The Review
The Inheritance of Orquídea Divina
The Inheritance of Orquídea Divina is a stunning adult debut that surrounds the mystery of magical inheritance and family legacy. It is one of those books which remind us that no matter where we go, we will always be a part of our ancestors or family.
PROS
Relatable and diverse characters
Magical setting
Themes
Unique plot and storyline
CONS
Multiple perspectives
Difficult-to-follow timelines
Review Breakdown
Magical Elements

0

Perspectives

0

Mystery

0

Characters

0

Uniqueness

0
Article Continues Below Advertisement
Article Continues Below Advertisement