Ah, November. The grey, colder, often forgotten month that folks don't usually have much love for. But lucky for all of you, we've decided to inject a little life back into this dreary time of the year with a little romance… toxic romance, that is. Everyone's favourite, right?
Meaghan and Shirin explain that this is their first bonus episode delving into a "trashy" romance series that they accidentally became obsessed with, known as Gabriel's Inferno.
RelatedSupernatural & Steamy: The Best Paranormal Rom-Coms To Read This Year
Shrin shares that she has a high tolerance for reading trashy books and can power through them, while Meaghan hates trashy content and taps out quickly. However, about a year ago they discovered Passionflix – a streaming platform run by Elon Musk's sister Tosca Musk that creates movie adaptations of romance novels. Even though the movies are truly terrible, both Meaghan and Shrin fell down the rabbit hole and became invested in watching them.
They provide background on the Gabriel's Inferno series – there are 4 books that began publishing in 2011, and Passionflix is adapting each book into 3 separate movies. This means there will eventually be 12 movies in total covering the series.
Article Continues Below Advertisement
The story follows a graduate student named Julia Mitchell at the University of Toronto. She is 23 years old and working on her Master's thesis focused on Italian poet Dante Alighieri. On the first day of her Dante literature course, the professor Gabriel Emerson calls on Julia and berates her in front of the class for not paying attention. He demands that she meet with him in his office afterwards.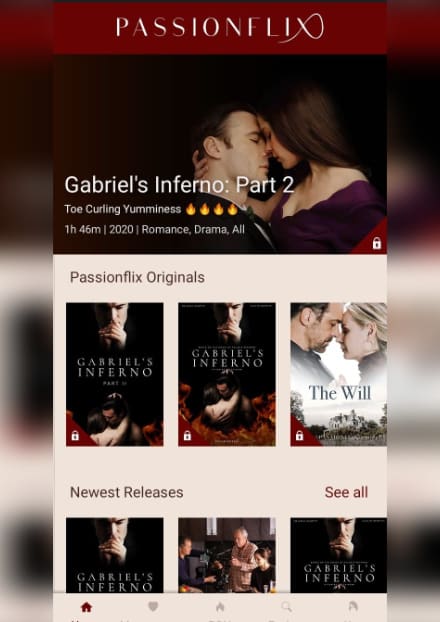 In the tense meeting, Gabriel tells Julia that her distracted behavior won't work for him and she needs to either transfer departments and advisors or change her thesis topic. Julia overhears Gabriel arguing heatedly on the phone about his adoptive mother Grace's recent death. She leaves him a note expressing her condolences, which confuses Gabriel later on how she knows about his family's personal matters.
We soon learn that Julia was childhood best friends with Gabriel's younger sister Rachel, and his mother Grace had been like a surrogate parent to her growing up. Rachel invites Julia over for dinner with Gabriel, during which he arrogantly shows off his rare collection of Dante works and memorabilia. Rachel calls him out and tells Gabriel to stop being mean to Julia, saying she's been through past trauma. Gabriel dismissively warns Rachel that it would be inappropriate since Julia is his student. However, he then proceeds to invite Julia to join them out clubbing, telling Rachel to buy Julia a nice dress and shoes with his credit card.
Article Continues Below Advertisement
At the club, Gabriel becomes jealous when other men talk to Julia. In a fit of rage, he shoves Julia against a wall forcefully, yet tries to play it off as sexy. Later, Julia ends up taking care of a wildly drunk Gabriel and bringing him home safely. In his drunken stupor, Gabriel suddenly calls her "Beatrice" – connecting Julia back to a brief romantic history they had when she was 17 and Gabriel was in his mid-20's.
RelatedRed, White & Royal Blue: The Biggest Differences Between The Book & Movie
In a flashback from 6 years prior, we see Gabriel as a troubled, rebellious guy with shaggy hair who Julia meets for the first time at his house. Gabriel had arrived home high on cocaine and gotten into a violent fight with his brother over something, beating him badly enough to send him to the hospital. 17-year-old Julia finds a brooding Gabriel sulking afterwards and surprisingly tries to comfort him. Gabriel starts comparing her to Dante's poetic muse Beatrice, seduces her, and takes her outside to kiss her in the apple orchard, making creepy comments about being her "first."
Julia ends up losing her virginity to Gabriel and sleeping under the stars together outside. But in the morning Gabriel is gone without explanation, leaving Julia distressed. In the present day, Gabriel wakes up with Julia and has no recollection of her being his childhood friend Beatrice. A devastated Julia tells Gabriel off and leaves him. Gabriel suddenly remembers their history but only after Julia has gotten into the elevator, rejecting his apologies.
Meaghan and Shrin emphasize that without the contextual background provided in the book, the movie's flashbacks and character connections make very little sense. The book gives more background details, but the story and writing are still poorly executed and absurd. They recommend watching the nonsensical movie without any prior knowledge for maximum comedic bewilderment. Overall the hosts promise additional bonus episodes continuing to analyze this laughably horrible series that they strangely can't stop watching.
Enjoying this bonus episode? Be sure to check out all of our coverage of various genres over at https://fully-booked.ca/. We're a listener-supported podcast! Please consider pledging and helping Fully Booked to grow our library over at https://ko-fi.com/fullybooked, or by leaving us a 5 star rating and review wherever you're listening. Thanks bookworms, and don't forget to keep on reading.