There is nothing better than getting sucked into a book because each page sends you deeper into the plot, and also has you thinking deeply about what it all means long after you put the book down.
Have you ever read a book and thought:
I need to talk to someone about this right now!
This list of 10 thought-provoking books will have you googling the meaning of each, if not motivated to start a book club just to finally have someone to talk it out with.
Article Continues Below Advertisement
Article Continues Below Advertisement
From sci-fi books that challenge the world as we know it, to Southern Gothic stories that teach you about new perspectives and books based in philosophy for those craving existentialism, there is a genre for all readers on this list.
10. Klara And The Sun by Kazuo Ishiguro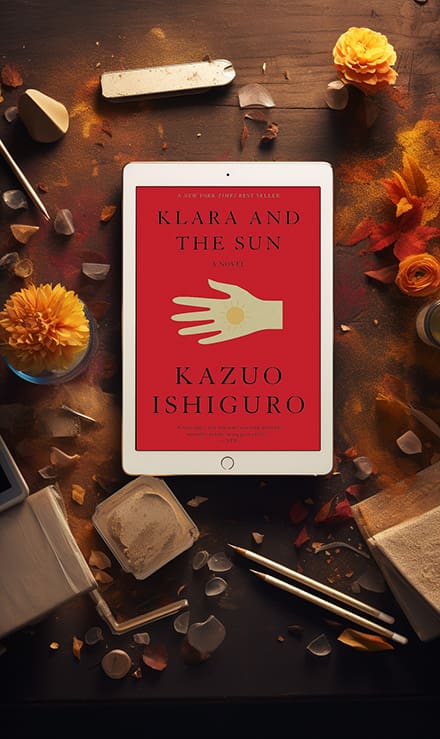 Kazuo Ishiguro is famous for his narrator's thought-provoking dialogue, as well as a specific attention to details for which the story is opened up bit by bit, Klara and The Sun is exactly that.
The setting of the book is quite vague, it could be any time in the recent past or near future but scientific advancements are much further along (as they often are in Kazuo's books) and it takes place in one of the U.S.'s biggest cities although it remains unidentified. There in the shop window of a big city is Klara, an AI robot who is waiting to be purchased while she admires the world outside, and wonders about the emotions of humankind.
Shortly, she meets the little girl who will soon become her owner, as Klara's purpose is to care for children, but the story unravels in mysterious ways as secrets about health, society, and the environment are revealed slowly. This book will make you think about the boundaries of love, the ethics of science and society, and where the world is heading.
9. 1984 by George Orwell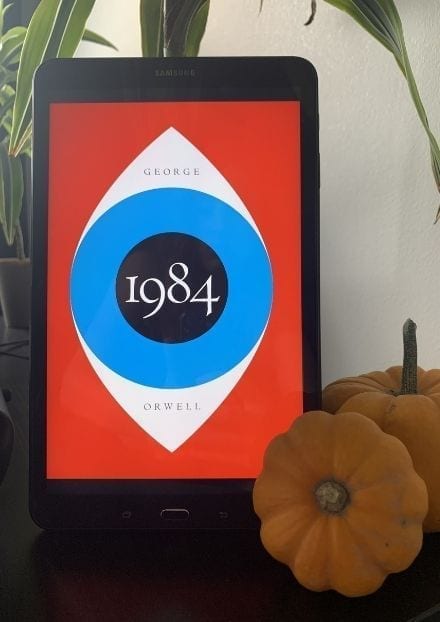 A classic story of love, society, and as many cult fiction lovers like to remind us, a prediction of the future with surveillance.
In George Orwell's telling of the year 1984, society lives under the surveillance of Big Brother. Life is monitored, people are meant to follow expectations, and not stray into individuality or desire without being instructed to. That is until Winston meets Julia, a woman he works with, and not just through a spark that they feel for each other but through events leading to more and more information, they begin to question their reality.
This book was meant to be a warning against totalitarianism for the future, and it is so thought-provoking that it was banned in many countries. It has a little bit of everything for all interests, sci-fi, romance, and even some horror.
Article Continues Below Advertisement
Article Continues Below Advertisement
8. Half Of A Yellow Sun by Chimamanda Ngozi Adichie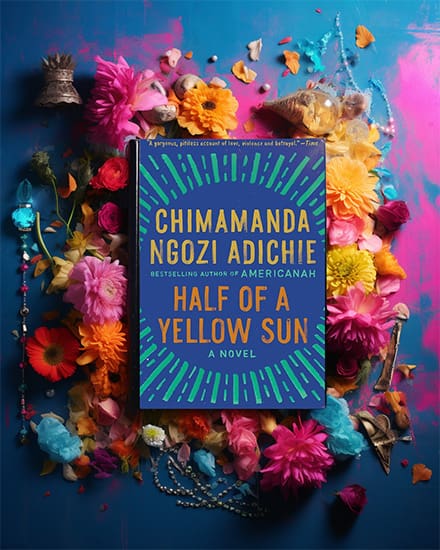 Chimamanda Ngozi Adichie is a very decorated author, among other things she is famous for an engaging TED talk, We Should All be Feminists. Among her work of novels is Half Of A Yellow Sun, which follows family and love through the Nigerian Civil War in the 60s'.
Adichie did her research, she spoke with her family who had lived through the war to pull details from what life was like at that time, and the sentiments of Nigerians across all lines, and through that, she creates the most beautiful and complete characters.
The main plot follows two twin sisters, who have chosen very different paths in life which leads them to live in different realities during the war. Next is their relationships that are challenged, as they are faced with the challenges of life and survival.
This book is thought-provoking because it provides a humanistic perspective on what civilians of war experience, and the heart-breaking destruction that must be faced. Although these themes are difficult to process, Adichie's magic somehow makes it digestible and so engaging that you won't be able to put the book down.
RelatedDown South: The Best Southern Gothic Books To Add To Your TBR
7. The Shadow Of The Wind by Carlos Ruiz Zafon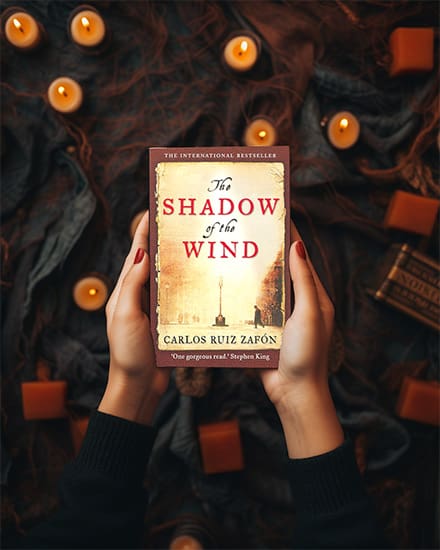 Take a trip to Barcelona in 1945 as the city is recovering from the Civil War, as the story follows the coming-of-age of a young man as he embarks on a mysterious journey. As a child, his father took him to a secret library, where Daniel was allowed to take one book – little did he know that book would drag him into a mystery beyond him over the decades.
Among the intrigue of mystery mixed in with the heartbreak of coming of age, Zafron's descriptions of Barcelona are enchanting.
Article Continues Below Advertisement
This book was originally written in Spanish but has been translated into more than 40 languages because the book has engaged so many people internationally.
6. The Alchemist by Paolo Coelho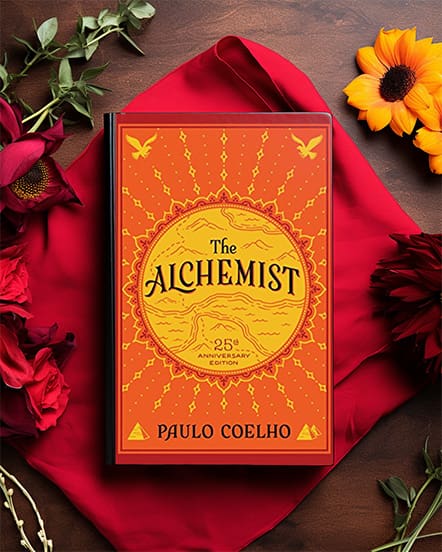 The Alchemist is another incredible coming-of-age story that is often recommended reading for young adults, but it is one of those reads that can strike a reader's heart at any age. It is thought-provoking in a way that will make you think about your life, and what you want and feel relaxed about the path you have taken.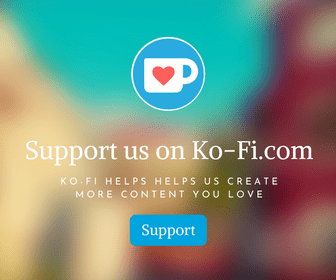 Our protagonist is a shepherd in Southern Spain, some time ago and he meets a wizard who tells him about treasures in a faraway land. As our hero decides to embark on the journey, he makes stops along the way and is able to see how happy he could be in different places, in different professions. The moral of the story is you can always go back, but going forward is a once-in-a-lifetime opportunity.
Related10 Best Coming-Of-Age Books You Must Read
5. And Then There Where None by Agatha Christie
For mystery fans, Agatha Christie is mandatory reading and a stand out in her collection of works is And Then There Were None. This book is thought-provoking because it will make you feel like a life game of Clue, or like you are an investigator because it feels like a game or literary escape room.
10 strangers find themselves on an island, invited by a mutual host, only to be trapped as one by one, people begin to show up dead.
4. Beloved by Toni Morrison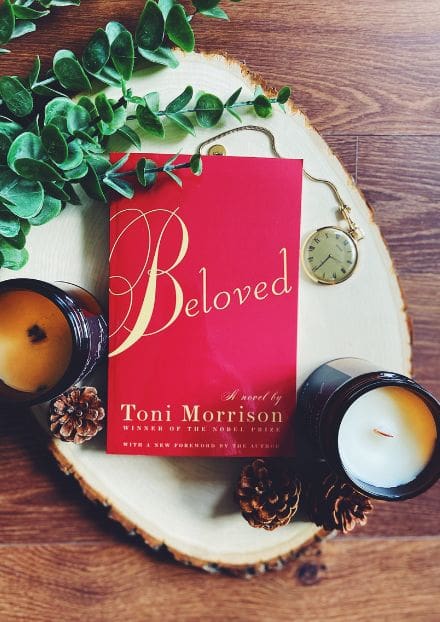 One of the most thought-provoking and mystical genres is gothic fiction, specifically Southern Gothic fiction dissects the complicated layers of history of the American South by examining lifestyles and perspectives across history, all while laying some ghostly supernatural elements.
Article Continues Below Advertisement
Article Continues Below Advertisement
Beloved by Toni Morrison is next level when it comes to layers of society and perspective, and she is known for her significant contribution to Southern Gothic and horror fiction. Morrison intersects history, racial oppression in the U.S., and family ties to bring forward a powerful story of a woman, Sethe, and her family as they move on from slavery in the aftermath of the Civil War.
This book is a page-turner, and for every moment that is difficult to read, there is a beautiful one about healing and feminine power.
3. The Girl With The Dragon Tattoo by Stieg Larson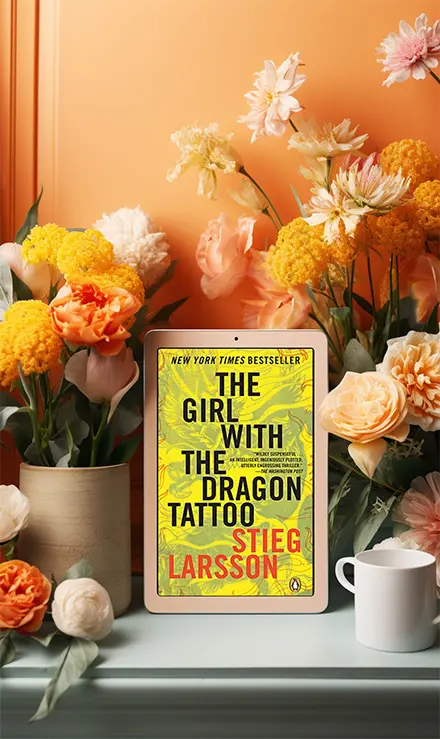 You may have seen the box office hit screen adaptation of the book The Girl With The Dragon Tattoo, but did you know it is actually a 7-part series?
The first 3 books are called the Millennium series, and the following 4 books came after the series reached fame but it makes for a thought-provoking reading list this winter. Follow Lisbeth Salander, a hacker and private investigator, tasked with a case close to home. Her painful past comes back to her on this journey through 7-page turning novels.
RelatedAudiophiles Unite: Top 10 Best Audio Books
2. Foe by J.M. Coetzee
Keep your eyes out for this sci-fi novel, it questions the power of love, humanity, and the boundaries of life on earth.
A married couple living a simple life on a farm is visited by a stranger, who sends the husband on a task to outer space to save humankind. Meanwhile, they are told his wife will be left accompanied by a robot replica of him. This enticing plot provides the characters with strife and questions about their life as they knew it.
1. The Road by Cormac McCarthy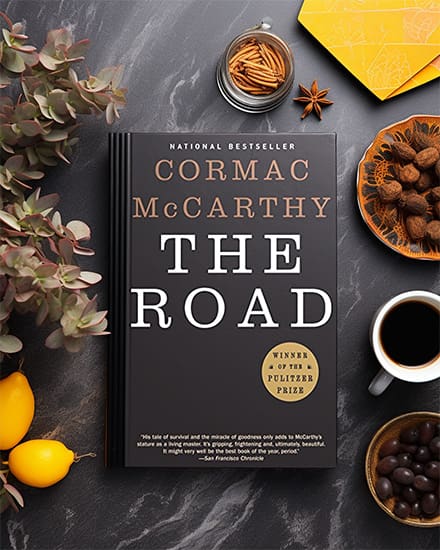 Post-apocalyptic books have a way of making you think about the future, and how to best live your life in the moment. The Road by Cormac McCarthy follows a man and his son, who was born post-apocalypse, as he tries to guide him through this new world.
This beautiful tale between a parent and child, their journey through life, and the human nature of hope are all themes you can expect to be challenged by.
*Disclosure: We only recommend books that we love and would read ourselves. This post contains affiliate links, as we are part of the Amazon Services LCC Associate Program and others, which may earn us a small commission, at no additional cost to you.
Article Continues Below Advertisement
Article Continues Below Advertisement